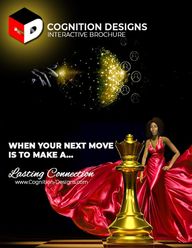 Return to flip book view
Our Booklet
Page 1
Page 2
WELCOME Welcome to Cognition electronic brochure Designs interactive Are you looking for a way to communicate with your audience that hold and keep their attention and potentially make more money Great looks like you re in the right place All of that is available to you right here in this booklet We want you to have fun as you flip through our pages and see some of the awesome tools we have to help you make those lasting connections So come on in and let us give you the royal treatment This is an interactive brochure so keep your eye out for highlighted items to click and engage with including our interactive table of contents located on the opposite page Simply hover over a section you want and let us take you there You ll find several other gems included with every page you turn Also take note of the Notification Bell in the top right corner of the platform and give it a ring to turn on notifications We will add new content that include discounts how to s helpful tips videos related information from our sister company Creative Artist Magazine and other goodies so hit the notification bell The more people ring the bell the more content we can add to share important information about helpful tips to help make your life easier Some of what you can expect are various buttons to watch videos expand images listen to audio and more Let us share a little more on how we can help you grow your business audience Let s Stay Connected This is an interactive brochure and we are always adding new content to it Stay connected and ring the notification bell in the top right Table Of Contents Get To Know Us Find out what moved us to start Cognition Designs Creative Artist Magazine and read what qualifies us as an expert Testimonials See what some of our clients and readers have to say about us AtCheckYour Services out and interact with some of the features of the service we provide to keep you connected and make more money Connections Content See how you can collaborate with artist and get your projects done We make connections
Page 3
WELCOME Welcome to Cognition electronic brochure Designs interactive Are you looking for a way to communicate with your audience that hold and keep their attention and potentially make more money Great looks like you re in the right place All of that is available to you right here in this booklet We want you to have fun as you flip through our pages and see some of the awesome tools we have to help you make those lasting connections So come on in and let us give you the royal treatment This is an interactive brochure so keep your eye out for highlighted items to click and engage with including our interactive table of contents located on the opposite page Simply hover over a section you want and let us take you there You ll find several other gems included with every page you turn Also take note of the Notification Bell in the top right corner of the platform and give it a ring to turn on notifications We will add new content that include discounts how to s helpful tips videos related information from our sister company Creative Artist Magazine and other goodies so hit the notification bell The more people ring the bell the more content we can add to share important information about helpful tips to help make your life easier Some of what you can expect are various buttons to watch videos expand images listen to audio and more Let us share a little more on how we can help you grow your business audience Let s Stay Connected This is an interactive brochure and we are always adding new content to it Stay connected and ring the notification bell in the top right Table Of Contents Get To Know Us Find out what moved us to start Cognition Designs Creative Artist Magazine and read what qualifies us as an expert Testimonials See what some of our clients and readers have to say about us AtCheckYour Services out and interact with some of the features of the service we provide to keep you connected and make more money Connections Content See how you can collaborate with artist and get your projects done We make connections
Page 4
Pauline Samuels Owner Cognition Designs Editor in Chief Creative Artist Magazine Lil Tin Ting Brand Ambassador Cognition Designs Isaiah 41 8 13 About M y business goal is simple I want to push you pass your possibilities threshold This is the drive behind me when I started Cognition Designs To exceed my client s expectations Having the drive and the determination to get the job done for optimum results using a keen eye and a creative touch is the winning combination I use to supersede my client s expectations My focus on you and the psychology of your target audience attention is the place where much of my creativity is born Research and development are another way in which I create an engaging user experience for your specific needs to get you the best return on your investment when purchasing our products After spending over 30 years in corporate America working for top companies both private and governmental In industries from banking engineering aerospace and software development with a specialized focus in marketing and technology I decided to put all the knowledge acquired to start my own business With a strong background in computers finance and marketing I originally started Cognition Designs to help Realtors and other business professionals with marketing materials to free up time for them to focus more on running their business Believing that with Cognition Designs as a trusted source they could comfortably give more focus to the other components of running their business thus making more money and having original eye catching marketing materials After briefly working as a Realtor myself I soon realized that I found greater joy in the creative and marketing aspects rather than as an agent One of my Realtor teammates said that I should try the more creative side that I enjoyed as I was highly creative and knowledgeable in Testimonials designs and marketing materials This was the start of me finding much more joy in life as it felt natural to want to help people using what I learned over the last 30 years After launching Cognition Designs I decided I should have a brand ambassador I created my avatar Lil Tin Ting as my brand ambassador and everyone loved her I have made avatars for my clients as well as logo designs and creative tag lines Another service that people sought me out for was consulting With knowledge both in technology marketing and finance there was a lot I could offer and spent much of my time doing this for the first year The importance of brand awareness should be at the top of your list when starting a business not just for the image because the truth is most people change their logo and or tagline before their business takes off The reason is to help you micro focus on your target audience because knowing that your logo or brand have to represent you before someone even meets you causes you to think not about how you see your business but how your clients or customers sees your business With that in mind we make better decisions about labeling things These are just a few of the things I go over in my consultations One day I was posting on Instagram and noticed several artists posts and thought of how beautiful their artwork was and wondered if there was something I could do to help them The term struggling artist can be very literal Always one to offer help I started Creative Artist Magazine which features artists worldwide and is available quarterly What makes Creative Artist Magazine unique is the way in which the artist stories are told and the personalized care taken to create a 6 10 page spread dedicated to that artist We feature an average of 6 artist per issue in the Spring Summer Fall and Winter Originally it was just my way of helping artist however it soon grew to become a premier specialty art magazine that is now also available in print We invite you to check out our latest digital issue by clicking here Additionally if you would like to help support our important work of helping artist tell their stories you can purchase them by clicking here I wanted to take a moment and express our gratitude to the work done on our behalf by Pauline and Cognition Designs We found Cognition Design to be prompt professional creative I cannot speak more highly of Pauline s ability to transform our ideas into tangible working imagery and data that has helped our business succeed in the digital marketplace I would recommend Cognition Design to anyone interested in marketing material or graphic design work for both personal or business platform Dr Todd Van Dahlen CEO Jazz in Pink has developed a fantastic relationship with Pauline Samuels Cognition Designs and her magazine Creative Artist Magazine Her dedication attention to detail approach has done wonders for our brand Gail Jhonson Co Founder of Jazz in Pink Get More Information About Our Booklets Services Click Here I really enjoyed working with Pauline and Cognition Designs on my recent project she was very professional and extremely creative I look forward to working with her again soon with some real estate brochures Thank You Pauline Terri Nomann Realtor Pauline Samuels Cognition Designs is a one stop shop for aspiring artists of every genre Her creative branding marketing skills artistic design extensive industry contacts make her a huge step above the rest Josie Aiello Singer Songwriter Pauline Samuels at Creative Artist Magazine was able to capture my late wife s passion with her work as a still life artist I was captivated by Pauline s energy attention to detail and truly understanding in a very short time my wife s work I am excited to continue to work on my wife s legacy so that her work can be remembered and treasured Pauline has made this possible with her dynamic talent to keep an Artist memory alive Thank you Pauline Phil Gaona I totally enjoy Creative Artist Magazine Keep up the good work Greg Mack Legendary Radio Personality This is great It Creative Artist Magazine shows your passion for the arts and how hard everybody artists works Rob Cisnero
Page 5
Pauline Samuels Owner Cognition Designs Editor in Chief Creative Artist Magazine Lil Tin Ting Brand Ambassador Cognition Designs Isaiah 41 8 13 About M y business goal is simple I want to push you pass your possibilities threshold This is the drive behind me when I started Cognition Designs To exceed my client s expectations Having the drive and the determination to get the job done for optimum results using a keen eye and a creative touch is the winning combination I use to supersede my client s expectations My focus on you and the psychology of your target audience attention is the place where much of my creativity is born Research and development are another way in which I create an engaging user experience for your specific needs to get you the best return on your investment when purchasing our products After spending over 30 years in corporate America working for top companies both private and governmental In industries from banking engineering aerospace and software development with a specialized focus in marketing and technology I decided to put all the knowledge acquired to start my own business With a strong background in computers finance and marketing I originally started Cognition Designs to help Realtors and other business professionals with marketing materials to free up time for them to focus more on running their business Believing that with Cognition Designs as a trusted source they could comfortably give more focus to the other components of running their business thus making more money and having original eye catching marketing materials After briefly working as a Realtor myself I soon realized that I found greater joy in the creative and marketing aspects rather than as an agent One of my Realtor teammates said that I should try the more creative side that I enjoyed as I was highly creative and knowledgeable in Testimonials designs and marketing materials This was the start of me finding much more joy in life as it felt natural to want to help people using what I learned over the last 30 years After launching Cognition Designs I decided I should have a brand ambassador I created my avatar Lil Tin Ting as my brand ambassador and everyone loved her I have made avatars for my clients as well as logo designs and creative tag lines Another service that people sought me out for was consulting With knowledge both in technology marketing and finance there was a lot I could offer and spent much of my time doing this for the first year The importance of brand awareness should be at the top of your list when starting a business not just for the image because the truth is most people change their logo and or tagline before their business takes off The reason is to help you micro focus on your target audience because knowing that your logo or brand have to represent you before someone even meets you causes you to think not about how you see your business but how your clients or customers sees your business With that in mind we make better decisions about labeling things These are just a few of the things I go over in my consultations One day I was posting on Instagram and noticed several artists posts and thought of how beautiful their artwork was and wondered if there was something I could do to help them The term struggling artist can be very literal Always one to offer help I started Creative Artist Magazine which features artists worldwide and is available quarterly What makes Creative Artist Magazine unique is the way in which the artist stories are told and the personalized care taken to create a 6 10 page spread dedicated to that artist We feature an average of 6 artist per issue in the Spring Summer Fall and Winter Originally it was just my way of helping artist however it soon grew to become a premier specialty art magazine that is now also available in print We invite you to check out our latest digital issue by clicking here Additionally if you would like to help support our important work of helping artist tell their stories you can purchase them by clicking here I wanted to take a moment and express our gratitude to the work done on our behalf by Pauline and Cognition Designs We found Cognition Design to be prompt professional creative I cannot speak more highly of Pauline s ability to transform our ideas into tangible working imagery and data that has helped our business succeed in the digital marketplace I would recommend Cognition Design to anyone interested in marketing material or graphic design work for both personal or business platform Dr Todd Van Dahlen CEO Jazz in Pink has developed a fantastic relationship with Pauline Samuels Cognition Designs and her magazine Creative Artist Magazine Her dedication attention to detail approach has done wonders for our brand Gail Jhonson Co Founder of Jazz in Pink Get More Information About Our Booklets Services Click Here I really enjoyed working with Pauline and Cognition Designs on my recent project she was very professional and extremely creative I look forward to working with her again soon with some real estate brochures Thank You Pauline Terri Nomann Realtor Pauline Samuels Cognition Designs is a one stop shop for aspiring artists of every genre Her creative branding marketing skills artistic design extensive industry contacts make her a huge step above the rest Josie Aiello Singer Songwriter Pauline Samuels at Creative Artist Magazine was able to capture my late wife s passion with her work as a still life artist I was captivated by Pauline s energy attention to detail and truly understanding in a very short time my wife s work I am excited to continue to work on my wife s legacy so that her work can be remembered and treasured Pauline has made this possible with her dynamic talent to keep an Artist memory alive Thank you Pauline Phil Gaona I totally enjoy Creative Artist Magazine Keep up the good work Greg Mack Legendary Radio Personality This is great It Creative Artist Magazine shows your passion for the arts and how hard everybody artists works Rob Cisnero
Page 6
AT YOUR SERVICE What We Provide To make sure your target audience truly have a memorable time viewing your interactive booklet we offer you the full customized experience Because let s face it your time could be spent taking care of other important components of running a business We continually raise the bar on creativity here at Cognition Designs With so many copycats out there you can rest assured that we create original materials for you Helping you stand out with beautiful designed layouts that allows the audience to feel your vibe and get your message download files connect to Shopify must fully upgrade for this feature get the full benefits of the SEO Search Engine Optimization and get weekly analytics Get a video of your booklet to share in an email or use in your social media marketing You can start small and build your booklet as you go as it really is your interactive gateway to share what s new with your clients Start selling your products music art or just keep people informed by offering them a personalized experience that s all about you Because it s a big world and we are here to see that you get the attention you deserve Getting our custom interactive booklet save you time and can help you make more money Included in every package is a free consultation to aid me in getting you maximum results with your specific target audience Creative Artist Magazine Features Through our dynamic layouts and integrated technology your customers will become fans and will want to do more business with you When you add our integrated push notification bell your clients will enjoy seeing what new news you ve added In addition to your custom layout and designed booklet we capture your client s attention with interactions that says you re ready when they are You can add audio play video play find me now contact forms a button for your specific needs to help you engage with your customers at a moments notice Show off pictures with our pop out photo expansion include social media buttons to your favorite platforms and so much more Some of the other perks include having a downloadable contact card QR code for instant access enable your clients to Creative Artist Magazine became a favorite to many of my clients and soon I was creating business profile listing presentations catalogs brochures and personalized magazines for business professionals entrepreneurs and artists With my design skills and the platform host adding more and more features things for both the magazine and Cognition Designs were a fully integrated business We have expanded this by adding special booklets that an artist can use for the media with a clean and concise layout along with high quality images which is a must for a press kit embedded music and or videos the media would need Press kits are meant strictly for the press and does not include some of the other artistic elements the Media Marketing Kit or personal booklets and magazines have The Media Marketing Kits booklets and magazines are used by artist who want to showcase their music and or artwork and have a digital magazine ready to share anytime anywhere and never miss an opportunity Being prepared is sometimes an overlooked element and should be just as important as being talented or highly skilled at what you do Your Kits Booklets are customized and include the various elements according to your specific marketing needs Additionally your booklet can be updated without having to create another booklet Included in most booklets is our push notification to alert your readers of new content Should you need to add or remove content we offer that too As you grow and have changes in your business your booklet also changes Contact Us send
Page 7
AT YOUR SERVICE What We Provide To make sure your target audience truly have a memorable time viewing your interactive booklet we offer you the full customized experience Because let s face it your time could be spent taking care of other important components of running a business We continually raise the bar on creativity here at Cognition Designs With so many copycats out there you can rest assured that we create original materials for you Helping you stand out with beautiful designed layouts that allows the audience to feel your vibe and get your message download files connect to Shopify must fully upgrade for this feature get the full benefits of the SEO Search Engine Optimization and get weekly analytics Get a video of your booklet to share in an email or use in your social media marketing You can start small and build your booklet as you go as it really is your interactive gateway to share what s new with your clients Start selling your products music art or just keep people informed by offering them a personalized experience that s all about you Because it s a big world and we are here to see that you get the attention you deserve Getting our custom interactive booklet save you time and can help you make more money Included in every package is a free consultation to aid me in getting you maximum results with your specific target audience Creative Artist Magazine Features Through our dynamic layouts and integrated technology your customers will become fans and will want to do more business with you When you add our integrated push notification bell your clients will enjoy seeing what new news you ve added In addition to your custom layout and designed booklet we capture your client s attention with interactions that says you re ready when they are You can add audio play video play find me now contact forms a button for your specific needs to help you engage with your customers at a moments notice Show off pictures with our pop out photo expansion include social media buttons to your favorite platforms and so much more Some of the other perks include having a downloadable contact card QR code for instant access enable your clients to Creative Artist Magazine became a favorite to many of my clients and soon I was creating business profile listing presentations catalogs brochures and personalized magazines for business professionals entrepreneurs and artists With my design skills and the platform host adding more and more features things for both the magazine and Cognition Designs were a fully integrated business We have expanded this by adding special booklets that an artist can use for the media with a clean and concise layout along with high quality images which is a must for a press kit embedded music and or videos the media would need Press kits are meant strictly for the press and does not include some of the other artistic elements the Media Marketing Kit or personal booklets and magazines have The Media Marketing Kits booklets and magazines are used by artist who want to showcase their music and or artwork and have a digital magazine ready to share anytime anywhere and never miss an opportunity Being prepared is sometimes an overlooked element and should be just as important as being talented or highly skilled at what you do Your Kits Booklets are customized and include the various elements according to your specific marketing needs Additionally your booklet can be updated without having to create another booklet Included in most booklets is our push notification to alert your readers of new content Should you need to add or remove content we offer that too As you grow and have changes in your business your booklet also changes
Above is our latest issue of Creative Artist Magazine that is integrated into
our interactive booklet. Directly across from our magazine is a view of our Tri-Fold Brochure. To the right are just some of the buttons we offer
for customer interaction.
Watch Videos: embedded or space saving option as a button
(Our real estate client showcase new listings with our digital booklets and artist Alice Hernandez-Gaona's family asked that we create this booklet showcasing Alice's Fine Arts in a custom design to honor her legacy and share her art with the world).
Page 8
Connections Connections Are you looking to make the right connection Maybe we can help We are often asked to help businesses artists and entrepreneurs find just the right addition to make their projects a success Interior designers builder doing remodels and people in general are always looking for art Are you a host a comedian We are often asked about different types of MC s DJ s and others who would make a good host Even with the current situation there are a growing list of people needed to attend and take part in Online functions shows interviews and exhibits Many companies still need content created for them from artists We have assisted in bringing together several artist and art lovers Likewise upcoming musicians are multi layered one having the beat another having the voice or skills writing songs or raps Bringing people together comes easy for us Add your name to our database of artists and businesses looking to collaborate Simply fill out our form letting us know a little more about yourself to help us get you just the right connection Also remember to let us know when you have a need so that we can help you make the right connection to fill the vacancy Whether you re looking for a photographer musician dancers writer illustrator comedian commissioned artwork band studio location or exotic pastry chef The winning combination of Cognition Designs and Creative Artist Magazine can assist you with referrals Collaborate with industry professionals that can help you get just what s needed to take your next project to the next level We also have a growing list of locations those that are available due to the current corona virus We can also help you with Online galleries and shows to showcase your talents The teamwork of Cognition Designs and Creative Artist Magazine is the right combination to help you unlock your true potential and make lasting verified connections Content June 2020 MAKE LASTING CONNECTIONS:
Fill our simple form above to be added to our database of artist, venues and businesses. Find someone who wants art, music meets the beat, galleries, studios, venues, hosts, comedy, singing, models, photography, film, special occasion opportunities & much more. We can help you make those connections.
Page 9
Connections Connections Are you looking to make the right connection Maybe we can help We are often asked to help businesses artists and entrepreneurs find just the right addition to make their projects a success Interior designers builder doing remodels and people in general are always looking for art Are you a host a comedian We are often asked about different types of MC s DJ s and others who would make a good host Even with the current situation there are a growing list of people needed to attend and take part in Online functions shows interviews and exhibits Many companies still need content created for them from artists We have assisted in bringing together several artist and art lovers Likewise upcoming musicians are multi layered one having the beat another having the voice or skills writing songs or raps Bringing people together comes easy for us Add your name to our database of artists and businesses looking to collaborate Simply fill out our form letting us know a little more about yourself to help us get you just the right connection Also remember to let us know when you have a need so that we can help you make the right connection to fill the vacancy Whether you re looking for a photographer musician dancers writer illustrator comedian commissioned artwork band studio location or exotic pastry chef The winning combination of Cognition Designs and Creative Artist Magazine can assist you with referrals Collaborate with industry professionals that can help you get just what s needed to take your next project to the next level We also have a growing list of locations those that are available due to the current corona virus We can also help you with Online galleries and shows to showcase your talents The teamwork of Cognition Designs and Creative Artist Magazine is the right combination to help you unlock your true potential and make lasting verified connections Content June 2020
A Photographers paradise
Concrete Studios LA
(Derrick Rodgers & LR)
Style writing artist King Cre8
is a muralist, illustrator & motivational speaker
Check back each week to find new content added on this page
JULY 2020
Page 10
WE ARE HERE FOR YOU WORKING FROM HOME